Milan Design week - 2018 Caesarstone - Altered States by Snarkitecture
Milan Design week 2018 – Altered States presented by Snarkitecture & Caesarstone
Caesarstone Presents- Altered States by Snarkitecture. Altered States, invites visitors to discover a collective experience that unifies the states of water within one circular kitchen island.  Composed of stacked layers of White Attica, the island is conveyed as an area for performance and interaction.Surrounding the island is a landscape of cylindrical pedestals, constructed of metal bases featuring a monochrome gradient of Caesarstone's Metropolitan Collection in Cloudbust Concrete, Airy Concrete and Rugged Concrete. The amphitheatre surrounding the island further highlights the centrality of the island.
"The kitchen space is continuing its journey to the centre of the home and, what used to be the family's meeting point, is turning out to be a 'future living room', a place where we entertain and host" says Raanan Zilberman, CEO of Caesarstone. "…We are very interested in the shifting role of the kitchen space and wanted to be leading this discussion with the help of Snarkitecture, which has been doing exceptional thought-based work at the crossroad of art and architecture."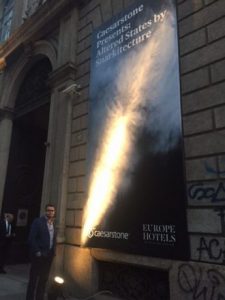 This 2018 collaboration focuses on the icon of the modern home, the kitchen island. Over the past 40 years, the kitchen has transformed from the private, utilitarian space to the most public space in the home. It has evolved into a place for entertainment, social interaction and performances where we demonstrate our 'professional' cooking skills, as well as showcase our high-tech appliances. With water being one of the most important ingredients in the kitchen, one that is used for a wide variety of cooking techniques and culinary creations, Snarkitecture will investigate the 'changing states' of water in the context of the kitchen island, as well as look at natural topography.