Middle Ridge Kitchen Renovation & Design
The design of the space and joinery pieces are complicated in their simplicity.  Balance has been created by focusing on quality, functional hardware and storage solutions, whilst showcasing understated refined luxury finishes.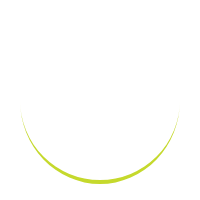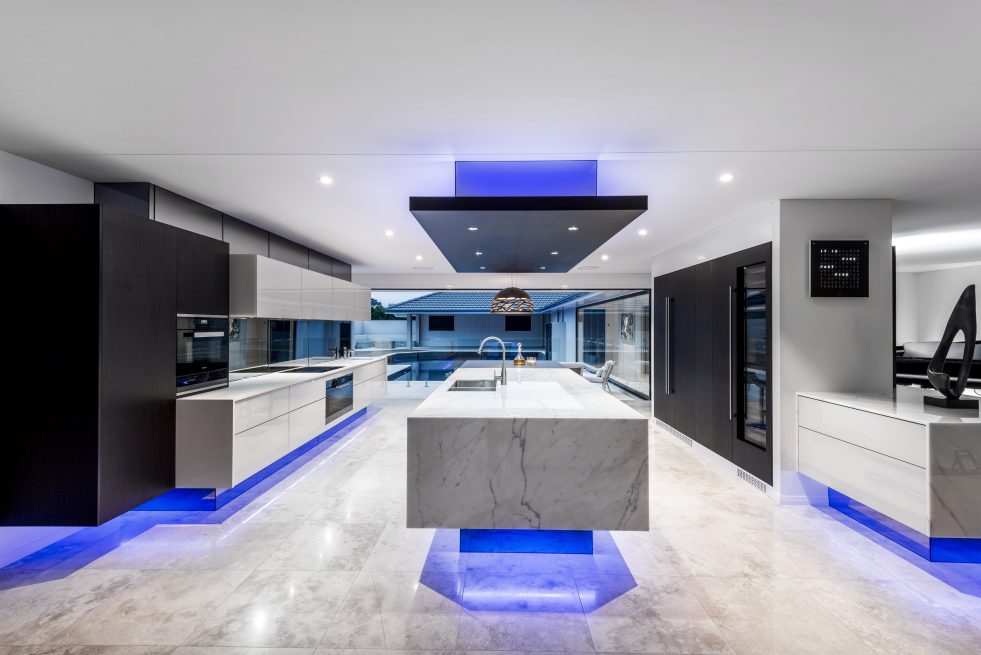 Calcutta Marble Kitchen Island Bench with New Age Veneer Ceiling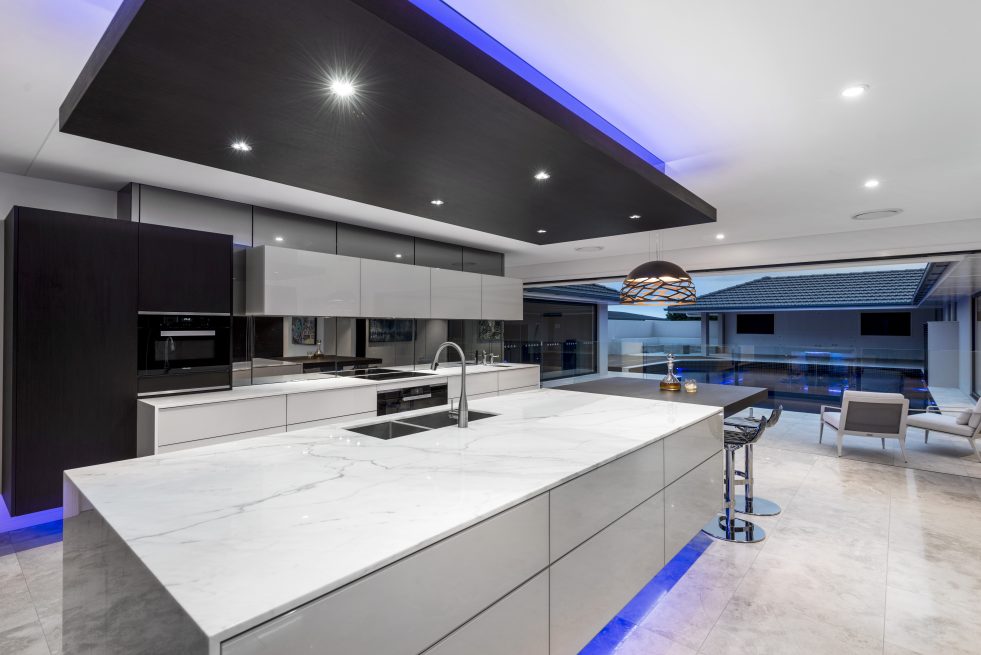 Suspended Ceiling Defines this Kitchen Island Bench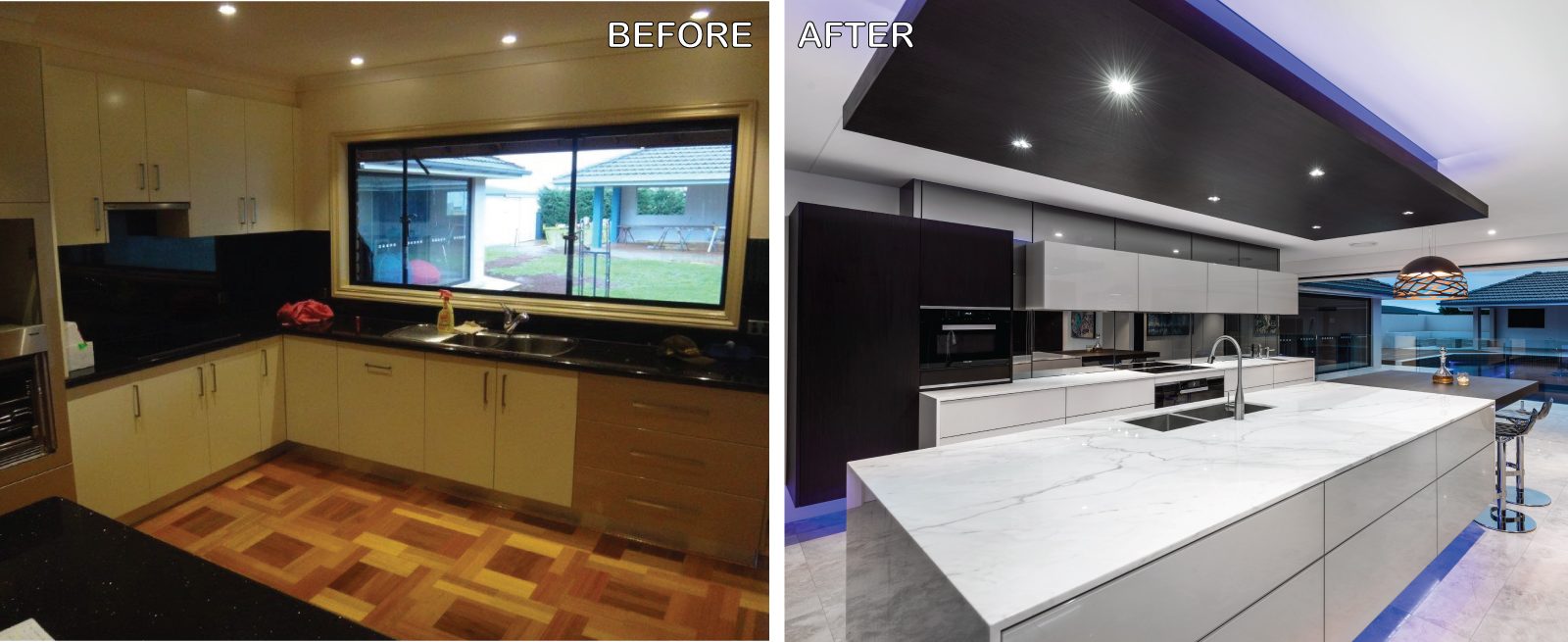 Before and After - Sublime Luxury Kitchen & Bathrooms - designs this Kitchen Renovation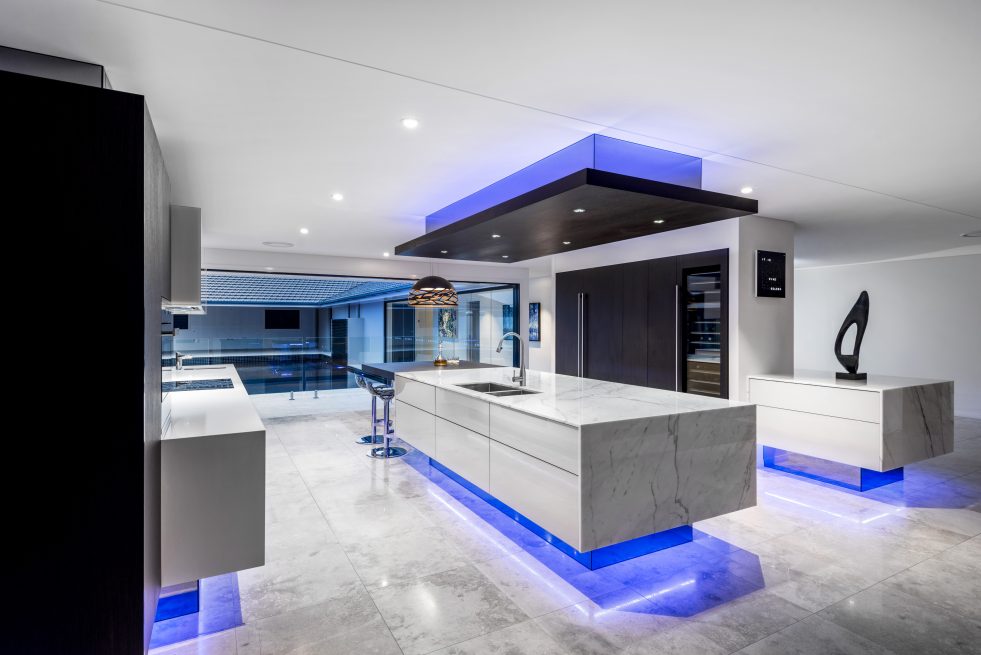 Integrated Sub Zero Kitchen Refrigeration with Integrated Panels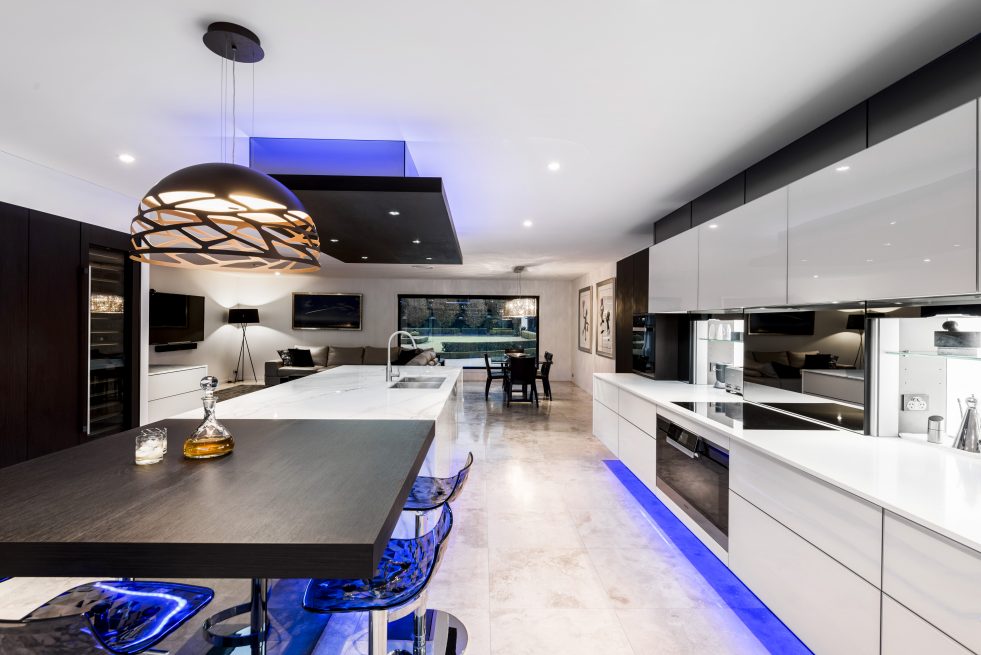 All spaces have been considered when planning this kitchen renovation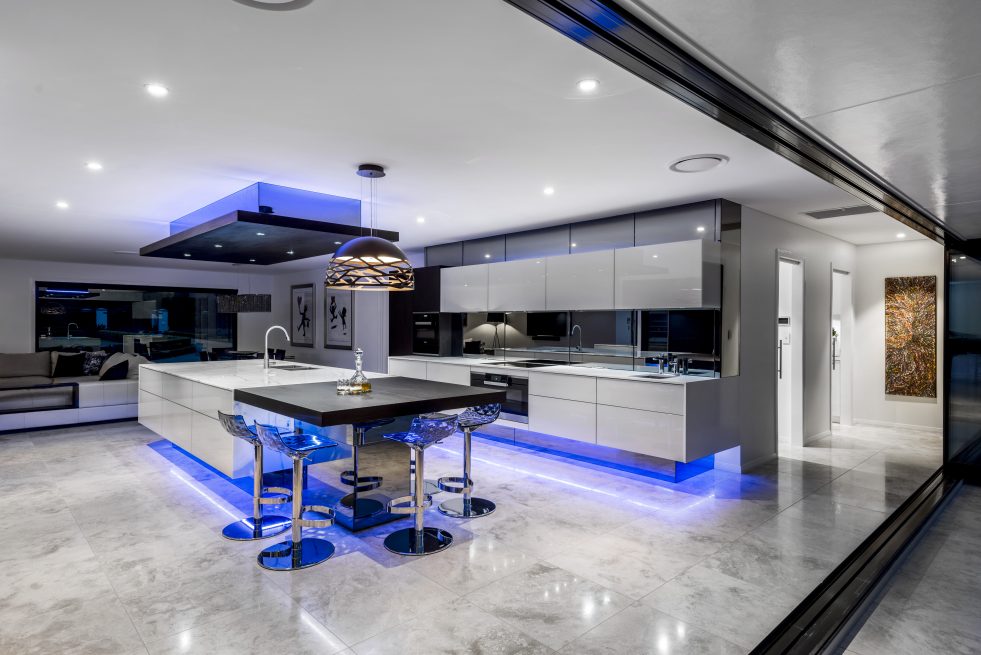 Vertical back mirror sliding glass doors to the kitchen splashback
Splashback doors slide up to reveal kitchen appliance storage with the interior illuminated with Pixalux light panels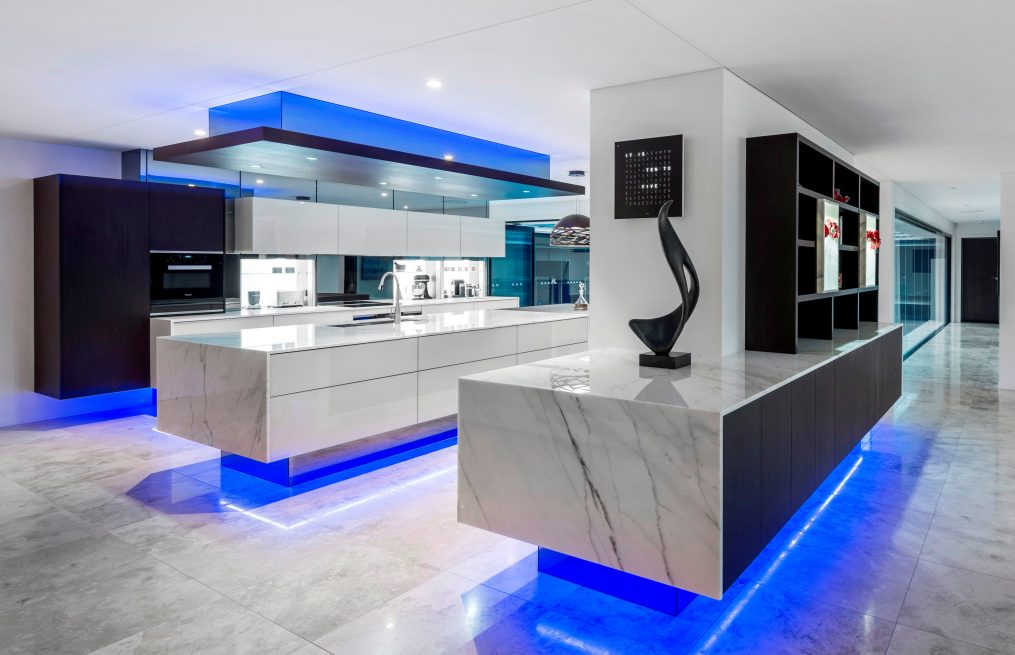 Library Storage Incorporated around the Kitchen Refrigeration
Project Details
PROJECT FEATURES
Consideration of all adjoining spaces
All finishes are refined, understated luxury finishes that stand the test of time and enhance the Home
All drawer fronts are aluminium frames 50/1mm lip with painted glass inserts for their durability
Feature Benchtops and Waterfall Ends made from Calacutta Borghini
Other Benchtops made from Ceasarstone Snow to complement the Calacutta Borghini
European cooking appliances by Miele
American Sub Zero refrigeration
Suspended feature island ceilings with New Age Veneer ‐ Sable Oak
Designer interior colourboard carcasses
Consideration of natural light and the aspect of the space
Strong connection between the adjoining rooms and areas
Seating areas for 4 people for casual meals
Use of reflective surfaces (Mirror) to Kickboards to create an illusion of more floor space and floating feel to the island
Use of reflective surfaces (Mirror) to splashbacks to reflect light back into the space
The use of Linak Lifting column system incorporated into the island table to provide a flexible zone for casual meals or increased island bench space
Splashback appliance doors slide up, behind overhead cabinets to expose most frequently used small appliances ‐ other appliances to pantry benchtops
Blum Servo Drive Electrical Opening Support System fitted to all drawers and Aventos lift systems
Fully planned LED Energy efficient lighting to provide appropriate task lighting (positioned to island feature ceiling and under overhead cabinets)
Fully Planned LED Energy efficient accent lighting positioned to kickboard toe recesses
Blum ‐ Highest Quality European Anti fingerprint Stainless Steel Legrabox Soft close Drawer System by Blum
Blum ‐ Highest Quality European Aventos HK touch open Lift Systems to Doors above Range hood Overhead Cabinets
Blum ‐ Highest Quality European Aventos HS (up and Over) Lift Systems to Range hood Overhead Doors
Use of inner drawers to maintain strong line continuity
STYLE OF HOME
STYLE OF HOME
4 Bedroom single level home
This home is located over 5 house blocks and has been progressively renovated over the last 5 years
Several contemporary accents
Rendered brick cladding
Aluminium Frame Windows with expansive Sliding doors to the outside pool area.
Fully tiled Roof
CLIENT BRIEF
CLIENT BRIEF
Unobstructed view of the pool
Connect the adjoining rooms and areas
The kitchen to be the focal point from living areas
Finishes that enhance the style of the home
With a focus on refined understated luxury finishes that stand the test of time
Provide an easily accessible location for small appliances
More drawers than doors
Focus on functional timeless quality storage solutions
Ensure the space can have multiple users preparing and presentation of food at the one time
Incorporate multiple integrated refrigeration
Incorporate seating for up to 4 people
Incorporate rubbish storage for household recyclables and waste
Create lighting solutions to enhance the design
Create lighting solutions that aide with tasks
Allow the spaces to come alive both day to day and during entertaining
DESIGN OBSTACLES AND PROJECT CHALLENGES
The kitchen area to be designed is a large area space. Challenges arose around minimising distances between key appliances for preparing day to day meals, however providing accessible areas for multiple users preparing and food presentation when entertaining.
The existing wall between the Kitchen and the Library was a structural wall. After consulting Engineers it was proposed to shorten this wall so that joinery could wrap between adjoining areas, assisting to create connection and continuity. The selection of the marble Benchtops to both the library and central island Benchtop also assisted to achieve continuity
Existing Plumbing and services located in the centre of the space and would need relocating to achieve the best designed outcomes.
DESIGN STATEMENT
This property, spanning five suburban lots, has been systematically renovated by the current owners of the last 5 years.  The original kitchen was typical of a home built over 20 years ago.  The space was small with a crowded collection of cabinets that made the room very unworkable.
Creating flow and a focal point for the adjoining livings areas was always the priority for the design of the kitchen space.  We consulted an engineer and were able to shorten the wall between the kitchen and the library.  This then enabled the joinery, used in the kitchen, to wrap around this central wall therefore providing a connection through to the library, dining and living rooms.  Multiple zones have then been created around this central wall including library storage/display, long term refrigeration to the kitchen and bench space for pouring a glass of wine beside the wine fridge.
The kitchen area to be designed was a large space.  The planning started by placing key cooking appliances to the back wall of the kitchen.  The joinery to this section was increased in depth, to accommodate hidden splashback storage which conceals small appliances and allows easy use on a regular basis.  The splashback doors slide up vertically, activating LED light panels which illuminate the internals.  This illumination provides additional task lighting.  Integrated short term refrigeration has been included to this cooking zone to minimise walking distances between key appliances.  Additional storage has been created with a walk in pantry located behind the back wall.  Bench tops were incorporated into this long term pantry storage room therefore creating space for storage of less used small appliances.
A central island has been positioned to assist with traffic flow between adjoining rooms.  Incorporated into the island is a small seated area for casual meals or entertaining while producing an unobstructed view of the pool.  This table can be raised electronically therefore providing a flexible bench height for many tasks and increase bench area for meal preparation and serving.
Whilst achieving better flow and functionality with the design, there was also a need to create a sense of effortless luxury in the finishes that would highlight the simple design philosophy.  The Calacatta Borghini marble featured on the island creates a sophisticated centrepiece, all other finishes and fixtures stem from this selection.   The warm tones seen veined throughout the marble are drawn out by the Sable Oak wood grain that encase the refrigeration multipurpose table and house the cooking appliances.  Then reconstituted stone benchtops in Snow is used to complement the island bench top and around the hotplate to provide a functional, yet practical cooking zone.
The aluminium frame glass drawer fronts create a strong line that draws your eye through the space effortlessly.  The painted glass doors in "Resene Thordon Cream" drawn from the earthy tones displayed throughout the marble.   The glass combined with the metallic back paint help reflect light around the space.
Recessed mirror kickboards reflect more light (aided by the use of LED strip lighting to the underside of the cabinets) around the space plus creates an illusion that the cabinets are floating.  This negative detail enables the floor cabinets to reduce their impact on the design foot print.  This mirror is also used on the splashback.  The use of mirrors create a sense of depth and connection to the spaces by reflecting images of the adjoining areas and more light.
Energy efficient LED lighting has been incorporated throughout the space to highlight and accent design elements whilst creating an illumination for all tasks completed in the space.
The design of the space and joinery pieces are complicated in there simplicity.  Balance has been created by focusing on quality, functional hardware and storage solutions, whilst showcasing understated refined luxury finishes.
Let's Work Together
Get In Touch
Contact